It's hang-time part 2 for us during our short birdy lives at the Mill House, and we are pleased to announce the successful candidates who applied to the call-out for the
Fragments
show. Hanging on Wednesday eve, this one will be up 1st July - 31st August.
Our new shining stars are:

Jenny Robins
,
Dan Prescott, Yuki Aruga, Zita Saffrette
... and we may be showing a couple of our own pieces too ... but we will return to
that later.
Some of Jenny Robins' birdy pics
.
See her website here ... Her work is just brilliant, joyful, colourful, witty and fun. We'll have lots of her smaller works, can't wait to see them all.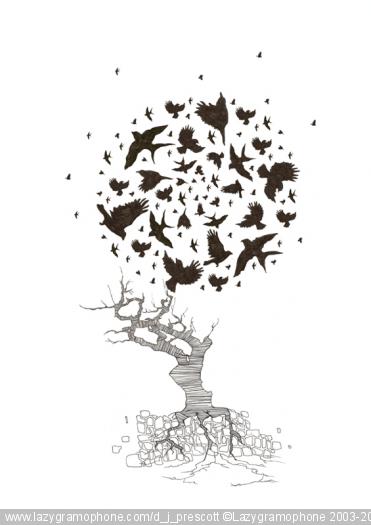 Dan Prescott's Magpie King I. How could we resist! Another great illustrator, Dan's makes lovely monochrome graphic work.
His work can bee seen on Lazy gramophone.
Zita Saffrette's stunning painting Shorelines. Our one real painting of the whole bunch!
And Yuki Arunga, our last-minute applicant, draws slightly surreal, technically outstanding animals in ballpoint pen on board. Here is Emperor Wilhelm, sporting a fabulous 'tash.
So, thank you all for applying, and also thank you to all the artists from the Collection project who made our first show so good!